The OnePlus 6T launch date isn't far off, and we know some of the early details.
The OnePlus 6T launch date is now confirmed for October 30 this year, and we're starting to see more and more OnePlus 6T leaks, and actual facts, appear online.
Just recently we've seen OnePlus confirm that the 6T will boast an in-display fingerprint scanner as it ditches the headphone jack - two major moves for the firm.
Update: OnePlus has confirmed that following the October 30 announcement of the OnePlus 6T it will hit stores on November 6. The company has also revealed that the fingerprint scanner will be optical, rather than ultrasonic.
The OnePlus 6T is set to replace the OnePlus 6, itself a successful phone managing to match handsets almost twice its price.
While a six monthly flagship turnaround may seem a bit quick, it's fast becoming the norm with the likes of Samsung, LG, Sony and Huawei all launching a new premium device twice a year.
It's no surprise OnePlus does too, and the OnePlus 6T will actually be the firm's ninth handset in its short 5 year existence.
We're pulling together all the OnePlus 6T leaks, rumors and facts below, plus we've also had a think about what we'd like to see from the new OnePlus phone.
Cut to the chase
What is it? The next T-variant flagship from OnePlus
When is it out? October 30 launch, November 6 in stores
What will it cost? Probably at least $529 / £469 (around AU$840)
OnePlus 6T release date
OnePlus 6T launch date confirmed for October 30
Hitting stores on November 6
OnePlus has confirmed it's hosting an official launch for the 6T in New York on October 30. It will be taking place at 11AM EST /  8AM PST / 3PM GMT (1AM AEST the next day).
You can head along to the event if you're quick enough to buy tickets, but it will also be livestreamed around the world on the official OnePlus website and YouTube so you can catch it no matter where you live.
As for when you'll actually be able to get the OnePlus 6T, that date has now been revealed to be November 6.
And if you pre-order you might get some freebies with it, as an Amazon India listing said you get free USB-C earphones and some Amazon credit. We wouldn't count on the same pre-order bonuses necessarily being available in all regions, but don't be surprised if there's some sort of pre-order perk where you are.
OnePlus 6T price
Hottest leaks
Will cost more than the OnePlus 6 ($529, £469, around AU$840)
We don't know exactly what the OnePlus 6T will cost, but the company has said the price will be going up to account for pricey new components (most notably the in-screen scanner). 
This is no surprise, as the OnePlus 6 started at $529 (£469, around AU$840) and prices have been gradually creeping up since the range debuted back in 2014.
But while the OnePlus 6T price will rise, it still probably won't be anywhere near to the likes of the iPhone XS and Samsung Galaxy Note 9.
In the US you may be able to buy the OnePlus 6T from a carrier for the first time, as OnePlus has said it's looking into it, and a more recent rumor suggests the Chinese firm will open up a partnership with T-Mobile US.
OnePlus 6T design and display
Hottest leaks:
A teardrop notch and minimal bezel
No IP rating
The OnePlus 6T might not be official yet but some features are, as OnePlus has confirmed that the phone will have an in-screen scanner called Screen Unlock.
We also know that it will be an optical scanner, rather than the more accurate and secure ultrasonic alternative.
OnePlus has revealed that as a result of the OnePlus 6T boasting an in-display fingerprint scanner, it will be 0.45mm thicker than the OnePlus 6, presumably making it 8.25mm thick overall. 
Apparently the phone will also have a more unibody design than its predecessor.
The company didn't say anything else about the design, but we have seen some leaked images that are apparently official marketing shots, so if that's true then they should show the final design of the OnePlus 6T.
They show a teardrop notch above the screen rather than the large notch on the OnePlus 6, while around the back there's still a dual-lens camera, but the flash has been moved slightly as there's no fingerprint scanner.
The shots show the phone in both Midnight Black and Mirror Black, with the former apparently having a frosted finish.
We've also seen other leaked renders. These are apparently based on factorys CADs (computer-aided designs) and you can see them below.
They match with the images above, showing that the phone has a teardrop notch housing a single-lens camera on the front, a slim bezel below the screen and a dual-lens camera on the back.
Along with the renders, the source claims that the OnePlus 6T is 157.5 x 75.7 x 8.2mm, rising to 8.6mm where the camera sticks out, making it slightly larger and thicker than the OnePlus 6.
However, we've also seen earlier leaked renders, which look similar but show a triple-lens rear camera.
So we're not certain which is accurate yet, but most rumors seem to suggest that the OnePlus 6T will just have a dual-lens camera.
We've also seen several photos seemingly showing the retail box, which handily also includes a sketch of the OnePlus 6T.
That sketch matches the renders above, showing a small teardrop notch at the top housing a single-lens camera, a slim bezel below the screen and a fingerprint icon on the display, hinting at the now-confirmed in-screen scanner.
The images, which you can see below, don't show the back of the OnePlus 6T, but the design is more or less identical to the Oppo R17 and Oppo R17 Pro, and there's reason to believe that the OnePlus 6T could share several of the features found on the Oppo R17.
That's because previous OnePlus handsets have bore more than a passing resemblance to Oppo phones (both manufacturers are owned by the same firm), so the link here isn't all that hard to fathom.
That might mean that the OnePlus 6T has a 6.4-inch Full HD+ screen, 8GB of RAM, a 25MP front-facing camera and either a 16MP/5MP dual-lens rear camera or a triple-lens one, like the setup found on the R17 Pro.
That phone has a 12MP variable aperture lens which can switch between f/1.5 and f/2.4 apertures, a 20MP f/2.6 lens and a ToF (time-of-flight) 3D stereo lens. That last one can measure depth, making it useful for both the ever-popular bokeh/portrait mode and augmented reality.
One thing we know is that the OnePlus 6T won't have an IP rating, meaning it won't have an official water resistance rating, though the company has said it will still be more water-resistant than any of its past handsets.
OnePlus 6T camera
Hottest leaks:
A dual or triple-lens rear camera
As noted above, the OnePlus 6T could have a similar camera to either the Oppo R17 (which has a 16MP and 5MP dual-lens pairing), or the Oppo R17 Pro (which has a 12MP variable aperture lens which can switch between f/1.5 and f/2.4 apertures, a 20MP f/2.6 lens and a ToF 3D stereo lens - so three lenses in total).
But we're not sure which (if either) of them it will be like, as while leaked renders above show three lenses, there's also a suggestion that it could have just two.
For one thing there's the leaked render below, which shows just two lenses, but there's also an official teaser video for the phone which includes a glimpse at the back. Unfortunately part of it is covered by someone's hand, so we can't be sure a lens isn't covered, but only two are visible.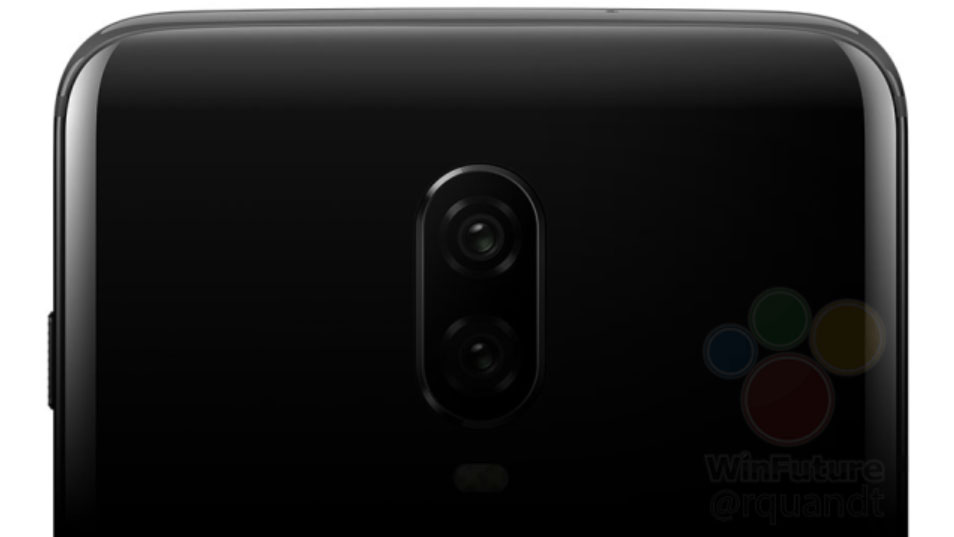 This image suggests the OnePlus 6 has a dual-lens rear camera. Credit: WinFuture
However many lenses it has though, the camera on the OnePlus 6 might be good but not quite a match for some rivals.
We say that because another leak suggest it's set to score 99 on DxOMark (a respected camera review site). That's higher than the 96 of the OnePlus 6, but lower than a number of other phones.
OnePlus 6T power and performance
Hottest leaks
Tipped to have the latest Snapdragon 845 chip and 8GB of RAM
The OnePlus 6T is sure to have the best Qualcomm Snapdragon chipset available at the time along with masses of RAM (the OnePlus 6 came with a choice of 6GB or 8GB).
Don't expect a microSD card slot though, based on past form, while the screen resolution is very much a question mark – OnePlus has consistently stuck with Full HD resolutions, but that's feeling ever more dated, so sooner or later we'd expect a jump to QHD or higher.
OnePlus 6T headphone jack
OnePlus has confirmed the 6T will not have a headphone jack
It will include a 3.5mm jack adapter in the box
It won't have one. OnePlus co-founder Carl Pei has exclusively confirmed to TechRadar that its next handset will drop the headphone jack.
OnePlus believes now is the right time to remove the jack, and it's allowing it to bring new technology to the handset (such as the leaked in-display fingerprint scanner) as well improved battery life.
To try and ease the pain of losing the headphone jack, OnePlus is doing two things.
There will be an adapter included in the box of the OnePlus 6T, allowing you to plug your 3.5mm connected headphones into the handset - although you won't be able to charge it at the same time.
OnePlus has also announced its Type-C Bullets headphones, which can plug directly into the USB-C port of the OnePlus 6T without the need for an adapter. They'll cost £15.99 and arrive at the same time as the phone later this year.
OnePlus 6T battery
Confirmed: there will be a battery life improvement on the OnePlus 6T vs 6
Battery size might be 3,700mAh
No wireless charging
OnePlus has confirmed to TechRadar that the OnePlus 6T will feature improved battery, but it's not clear how the improvement will be achieved.
It could be the use of more efficient chips, a change in screen technology, an increase in battery size, or a mixture of things - but OnePlus wouldn't be drawn into giving us any more information about it at this point.
It's likely that a larger battery at least plays a role though, as a leak suggests that the OnePlus 6T will have a 3,700mAh one, up from 3,300mAh in the OnePlus 6.
We also know that the OnePlus 6T won't have wireless charging, as the company has confirmed as much.
OnePlus 6T: what we want to see
We don't know anything much about the OnePlus 6T yet, but based on the OnePlus 6 and what's going on in the rest of the phone world we know what we want from it.
1. A QHD and/or HDR screen
One of the most obvious ways OnePlus manages to keep the costs of its handsets down is with the screen. Every OnePlus flagship to date has come with a Full HD resolution display, but that's no longer the norm at the top of the mobile market.
QHD (2K) resolutions now adorn many of the top Android smartphones, and with the increasing screen size of recent OnePlus handsets a higher resolution would mean an even sharper screen.
There is an argument that the difference between Full HD and QHD isn't all that obvious, and for many that's true – so here's a different suggestion for the OnePlus 6T: HDR (high dynamic range).
If the OnePlus 6T screen features HDR support it would make movies and gaming look even better, with enhanced light and dark areas providing added depth and immersion.
2. A whopping 512GB of storage
This wouldn't be a cheap option, but it's one that will likely please the hardcore OnePlus fans, as the company appears to be dead-set against including an expandable storage option on its devices.
We've already seen 512GB teased for the Samsung Galaxy Note 9, so it wouldn't be the first to offer this storage size, and it means we could go crazy with the 4K video recording and Netflix downloads.
3. Keeping the headphone jack
OnePlus has been very vocal over the past year or so about the fact that it's kept the 3.5mm headphone port on its smartphones while others ditch it from their devices.
We want the port to remain on the OnePlus 6T, providing users with the flexibility of being able to plug in their favorite set of headphones which also keeping the USB-C port available, just in case you need to charge the phone as well.
4. Stereo speakers
The OnePlus 6 has just a single speaker, and its placement at the base of the phone makes it easy to muffle, so we'd like to see it ideally moved and definitely doubled up for the OnePlus 7, with a second speaker allowing for loud stereo sound.
Sure, you'll probably mostly use headphones anyway, but having a quality speaker setup can make all the difference when you just want to watch a YouTube video or listen to a podcast without plugging in.
5. No notch
The OnePlus 6 is one of many recent phones to get a notch, and while it can be hidden if you prefer, what we'd really prefer for the OnePlus 6T is no notch at all.
But we don't want a return to big bezels either. We're starting to see phones like the Vivo Nex and Oppo Find X which have almost no bezel at all, and we'd like the OnePlus 6T to join them – which isn't out of the question, given the aforementioned  Oppo/OnePlus connection.
6. Wireless charging
Despite having a glass back, the OnePlus 6 doesn't support wireless charging, which seems like a major omission for a flagship phone.
This is probably a cost-cutting measure – and in a sense it seems reasonable, since we doubt wireless charging is a heavily used feature – but it would be nice to have.
7. An in-screen fingerprint scanner
Along with an all-screen design we'd like the OnePlus 6T to have an in-screen fingerprint scanner. That way the phone could still have a scanner without it having to be awkwardly placed on the back.
And in-screen scanners are currently a high-tech novelty, and having one could help the OnePlus 6T stand out from the crowd – or at least match up to it, depending on how many phones have them by the time the OnePlus 6T launches.
The good news is that since we added this to our wish list OnePlus has now confirmed that the 6T will have one.
We also expect to see the Google Pixel 3 before the year is out