Huawei could be on the verge of launching a new smartwatch – here's everything there is to know about it so far.
Update: The Huawei Watch GT has appeared on Huawei's own site, revealing the design, screen details, features and the fact that it won't run Wear OS.
Huawei is one of the biggest names in Wear OS, thanks to its impressive Huawei Watch and feature-packed but flawed Huawei Watch 2.
Huawei CEO Richard Yu spoke to TechRadar at MWC 2018 and revealed the company is working on a third iteration of its smartwatch, but he doesn't know yet when it will be ready for release.
October 2018 has seen lots of leaks of a device we thought would be called the Huawei Watch 3, but instead it's seemingly called the Huawei Watch GT. 
Below you'll be able to read everything we know so far about the device that we expect to hear more of alongside the Huawei Mate 20 and Mate 20 Pro.
Cut to the chase
What is it? The next smartwatch from Huawei
When is it out? Possibly October 2018
What will it cost? Likely upwards of £330 ($300, AU$450)
Huawei Watch 3 release date and price
The Huawei Watch 2 was announced at MWC 2017 and went on sale in April 2017 so at one stage we thought we may see the Huawei Watch 3 at MWC 2018 or alongside the P20, but it didn't show up.
That was always unlikely though considering Huawei's CEO Richard Yu told TechRadar he doesn't think the company should rush to make a new watch. 
Yu told TechRadar, "It will come later - there's no hurry because Huawei Watch 2 sells well. We're not in a hurry, so we're launching the new watch later."
We've also now seen the Huawei Watch 2 2018 - a new version of the Huawei Watch 2 which adds an eSIM, a capacitance sensor and a geomagnetic sensor, but is otherwise the same. Given that this only arrived recently the Huawei Watch 3 may be a long way off.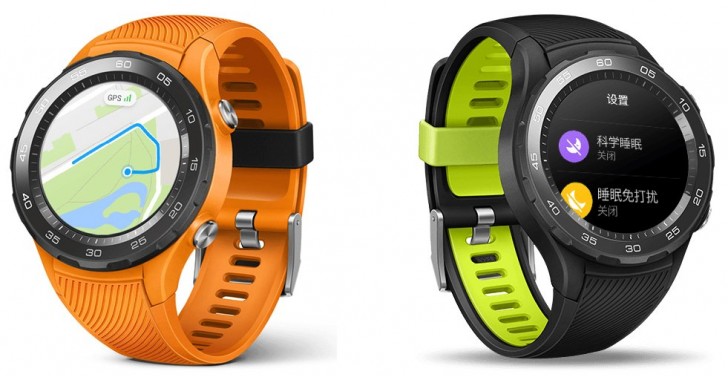 Huawei Watch 2 (2018 edition)
All of that said, we've now started seeing consistent leaks of a device called the Huawei Watch GT that may be the successor to the Huawei Watch 2. We'll talk you through the strange naming issue just down below...
If it's set to be announced soon (like the leaks suggest) we may hear about it alongside the Mate 20 and Mate 20 Pro that are set to launch at an event in London on October 16.
Whenever the Huawei Watch GT does launch it will probably be a high-end, expensive device. There aren't any price rumors yet, but the Huawei Watch 2 started at £329 ($299, AU$450) when it first arrived, so the Watch 3 might have a similar price tag.
Huawei Watch GT or Huawei Watch 3?
There's confusion about the name of the next smartwatch from Huawei. It may well be the company will rename its series of devices and instead of the Watch 3 we'll be hearing about the Huawei Watch GT.
We've referred to it as both names in this article, but as we hear more about the watch we've seen more suggestions it'll be called the GT rather than the Watch 3. Exactly what GT refers to is a little unclear the moment though.
Huawei Watch GT design and display
The biggest Huawei Watch GT leak yet has come from an early listing on Huawei's own site, and it reveals that the watch has a 1.39-inch 454 x 454 AMOLED screen, while the rest of the watch has an aluminum and ceramic build. The listing also included a picture, which you can see below.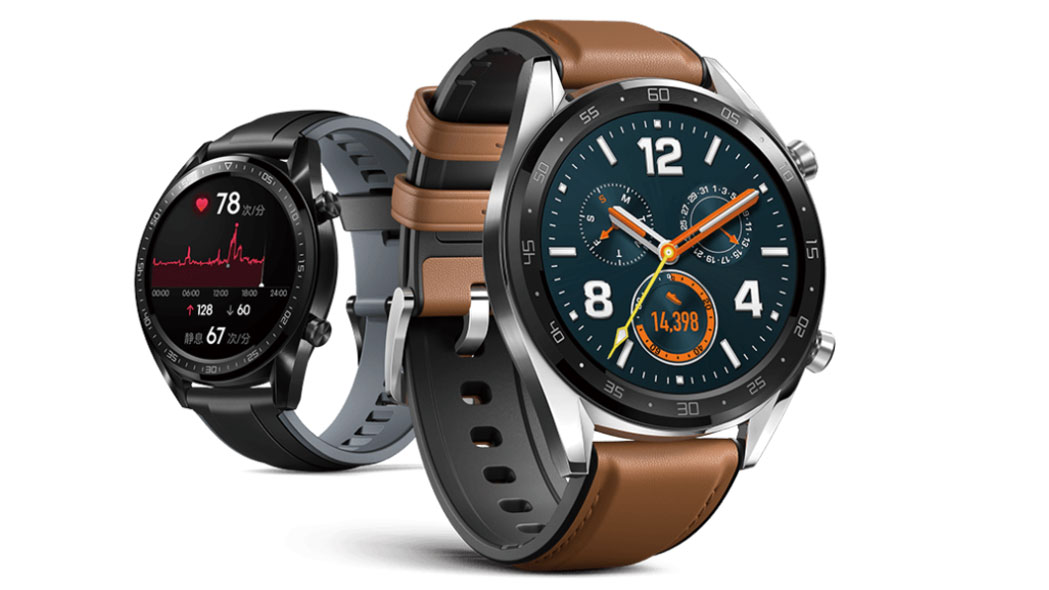 The screen information is no surprise, as Israeli website Wisebuy revealed a spec list that suggests the watch will have a 1.4-inch AMOLED display with a 454 x 454 resolution. That's alongside built-in GPS features, a continuous heart rate tracker, the ability to monitor sleep and swim tracking too, with a 5 ATM rating.
The site was also one of the first to claim the device will be called the Huawei Watch GT.
However, it's worth noting there might be more than one version of the watch. Trademarks Huawei has filed for the new watch that suggests the company is working on three different variants of its next-gen watch. The documents called the new watches Unlimited, Voyage and Anchor.
Exactly how these products differ is unclear, but we wouldn't expect these to be the names used when it's actually released on shop shelves.
In fact, one source - the same that provided the picture you can see below - has claimed the device will only come in two versions and they'll be referred to as the Huawei Watch GT Classic and Huawei Watch GT Sport. The Classic may also sometimes be called the Watch GT Fashion, according to this rumor.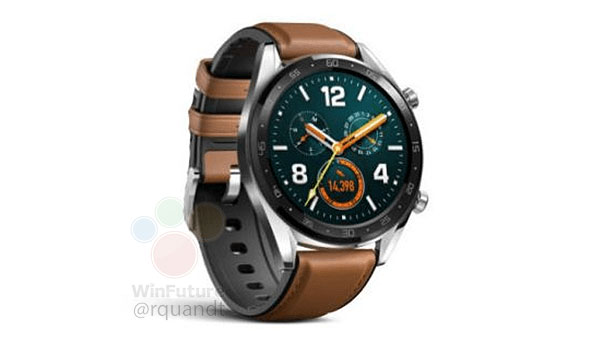 The Huawei Watch GT Classic or Fashion. Credit: WinFuture
WinFuture provided the image above that matches the official image further up and looks similar to other Huawei Watch devices we've seen before, but it has some notable changes including a brown leather band and more pronounced buttons on the right hand side of the watch.
The writer claims the watch will come with the same screen and waterproofing tech we've seen leak above, but it'll also come with a GPS tracker, a compass, pressure sensors and an accelerometer.
Huawei Watch GT battery life
An early listing on Huawei's website revealed that the Huawei Watch GT has a 420mAh battery which offers up to 30 days of life in standard watch mode and 22 hours in GPS mode. That size is one we've heard rumored before.
The long life could be through some impressive optimization, and it may be the company has opted for the newer Qualcomm Snapdragon 3100 chipset to achieve this.
That said, a new report from WinFuture suggests the company will instead be using an ARM Cortex-M4 to power up the Huawei Watch GT.
Elsewhere, Richard Yu, CEO of Huawei's Consumer Division has said that he wants to adapt AI for wearables, and hopes one day to produce a watch with week-long battery life.
Yu also said: "we want to make bigger improvements and make the experience much better than today. That's my target. We want to make the smartwatch more useful, more intimate, more functional, and with much longer battery life." So it sounds like the Huawei Watch GT could be a big upgrade in various ways.
Huawei Watch GT software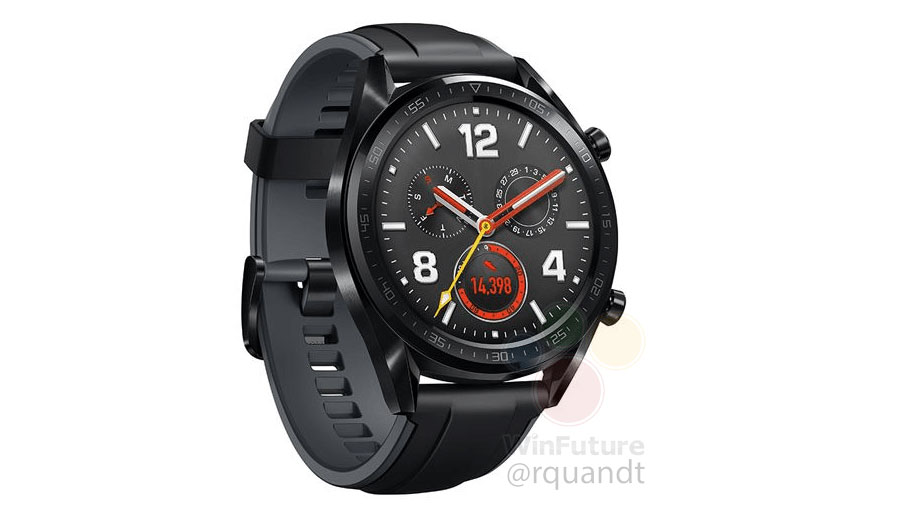 Another leaked render of the Huawei Watch GT. Credit: WinFuture
One other thing we'd originally expected was for the Watch 3 to feature Wear OS software, but Huawei's own website has since revealed this it will instead be using the company's own software.
This software seemingly won't have access to third-party apps and interestingly may only be compatible with phones running EMUI (meaning Huawei or Honor handsets).
This isn't the first time we've heard of Huawei using its own software, with an earlier leak saying the same.
Huawei Watch GT other features
An early listing for the watch on Huawei's website mentioned it having a heart rate monitor, sleep monitoring, and something called TruRelax atmospheric pressure monitoring.
Elsewhere in rumor land, one report describes a watch with a space for Bluetooth earphones either in containers between the body and the strap, or built into the bottom of the strap. These would make it easier to take calls and listen to music on the watch, as you'd always have them with you.
Earphones could be housed in these capsules. Credit: WIPO/LetsGoDigital
Another patent shows a watch with sensors that can recognize gestures made on the back of your hand, so you could for example make the shape of a letter and have it appear on the screen, allowing you to more easily write things using your smartwatch.
Additional gestures could include a double tap or a long press, so you could potentially fully interact with the watch without touching it.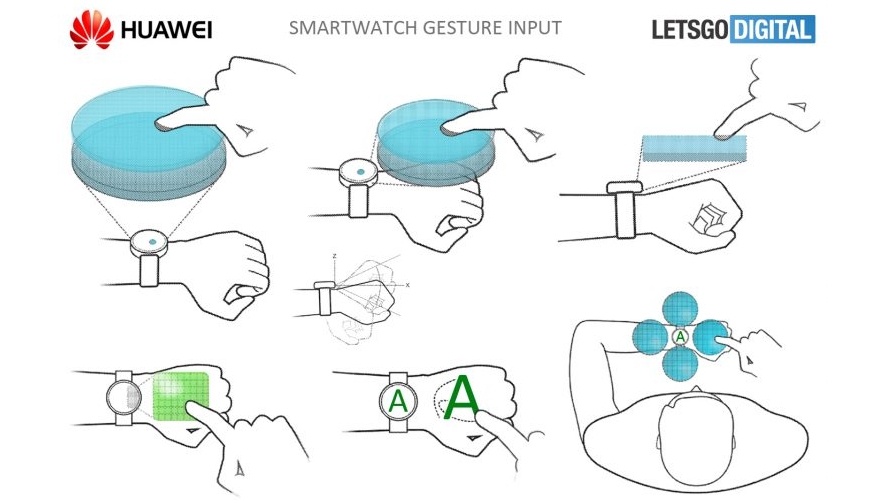 The Huawei Watch 3 might let you write on your hand instead of the screen. Credit: WIPO/LetsGoDigital
We've also seen a patent which describes a smartwatch with touch-sensitive bezels. The patent shows a bezel divided into eight sections, each of which could be tapped to do something on the watch.
But you could also touch multiple sections at the same time to perform an even wider variety of actions, and these actions could go beyond just launching apps, allowing you to also zoom in or out and scroll through menus for example.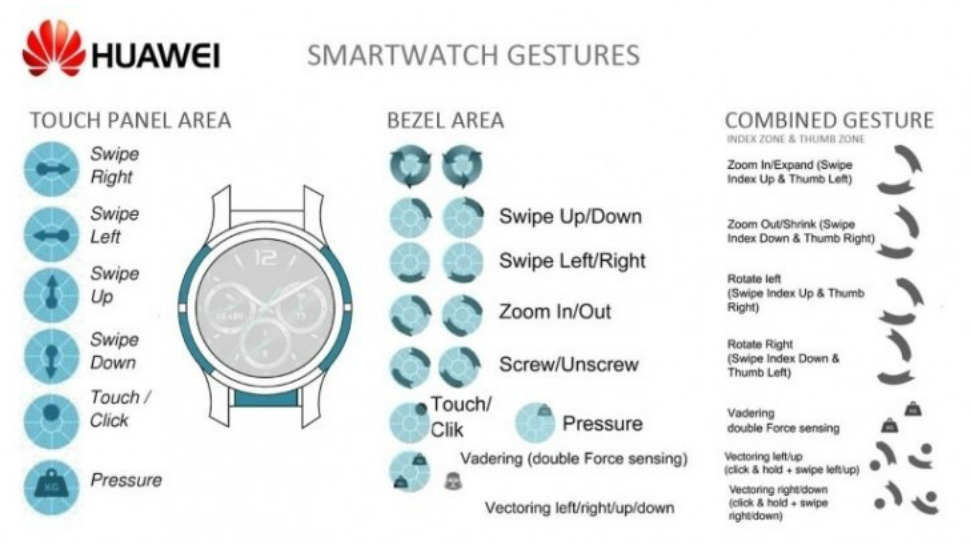 Could this be the headline feature of the Huawei Watch 3? Credit: WIPO
It's a potentially more useful – if also more complicated – alternative to the rotating bezel the likes of the Samsung Gear S3 has.
It would be a handy addition, given that the Huawei Watch 2 is notably light on control methods, but this being a patent there's no guarantee anything will ever happen with it, let alone that it will be used for the Huawei Watch 3 specifically.
What we want to see
Huawei has been quiet about the Watch 3 so far, but we're not going to be quiet about what we want from it. The following seven things could make it a big improvement from the Huawei Watch 2.
1. A stylish design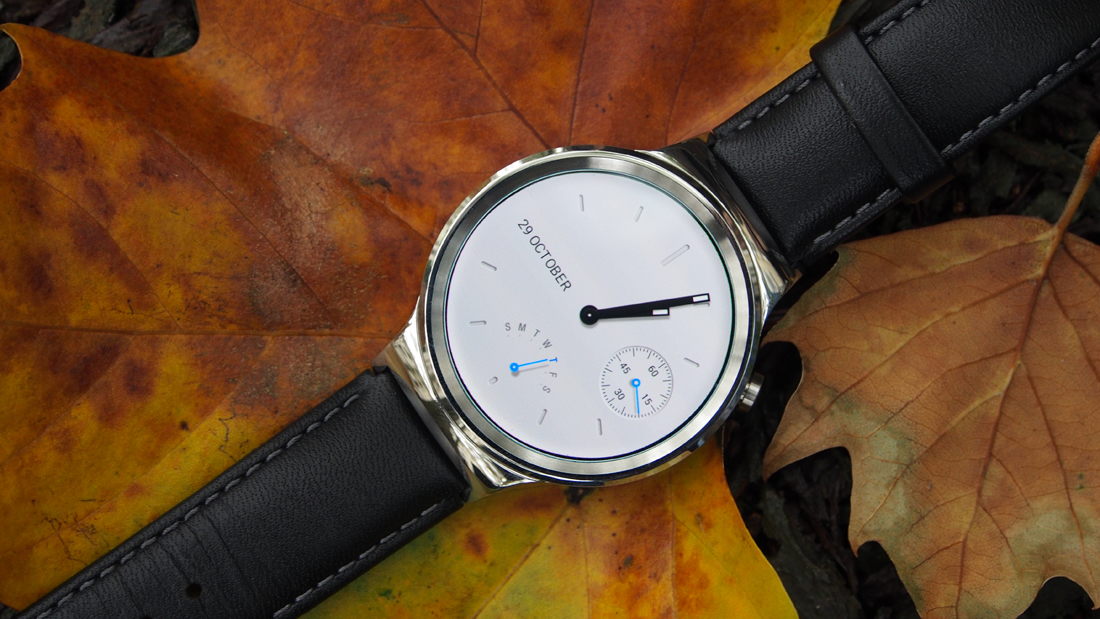 The Huawei Watch looks far more stylish than the Huawei Watch 2
The original Huawei Watch had an attractive design, the Huawei Watch 2… not so much. It traded a smart metal finish for a sportier, chunkier one, with big bezels and a plastic build.
It's not actively ugly, and the sporty design suits its sportier innards, plus there's also a Huawei Watch 2 Classic with a look that is more stylish, but that comes with a higher price tag and isn't available with LTE.
For the Huawei Watch 3 we want the standard version of the watch to have a slim, stylish look, without sacrificing features in the process. We wouldn't complain if a plastic version is offered too at a lower price, but it should have the same specs.
2. Powerful performance
Despite being a top-end watch when it launched and still being up there with the more powerful smartwatches on paper, the Huawei Watch 2 proved a little sluggish in practice, which is not what we want when we're dropping hundreds on a wearable.
So for the Huawei Watch 3 we want a performance boost, whether through more RAM, a faster chipset or just software optimizations. Apps should open instantly and interacting with the watch should be smooth.
3. A rotating crown
The Huawei Watch 2 has two buttons as well as a touchscreen, but it doesn't have a rotating bezel or crown. This isn't overly surprising, as few Wear OS devices do, but these are handy ways to add an additional input method to the watch without really taking up any more space.
They let you scroll through menus without obscuring the tiny screen, which is a nice feature to have, and one that some major rivals – such as the Apple Watch 3 – sport.
4. A larger screen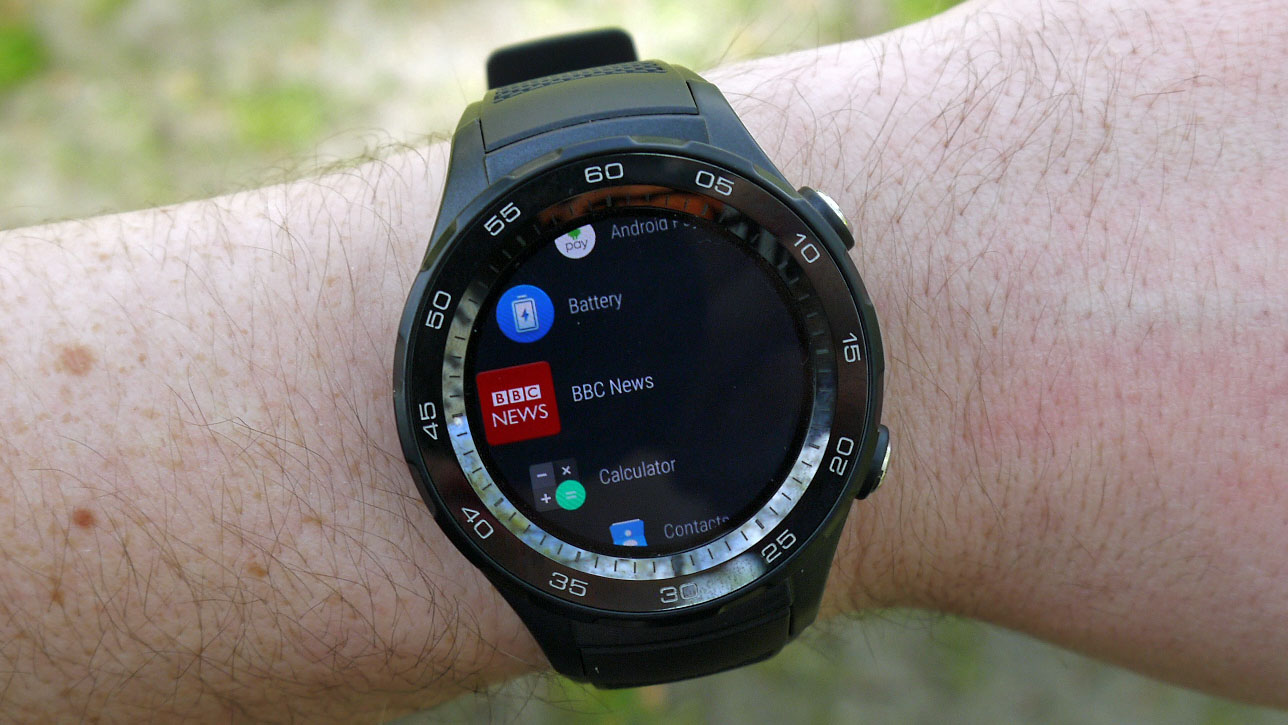 The Huawei Watch 2's screen feels slightly more cramped than we'd like
Despite having a chunkier build than the original Huawei Watch, the Huawei Watch 2 actually has a smaller screen of just 1.2 inches.
It's fairly sharp and bright but it feels cramped, especially when trying to use an on-screen keyboard, so we'd like to see a larger screen of around 1.4 inches on the Huawei Watch 3.
5. A slicker charger
The Huawei Watch 2 employs a fiddly, inelegant charging solution, requiring you to line up a cradle with pogo pins on the back of the watch.
It's not a huge issue but it could be so much simpler, and we want it to be for the Huawei Watch 3. A simple wireless charger that you plop the watch straight onto would do just fine.
6. Support for standard straps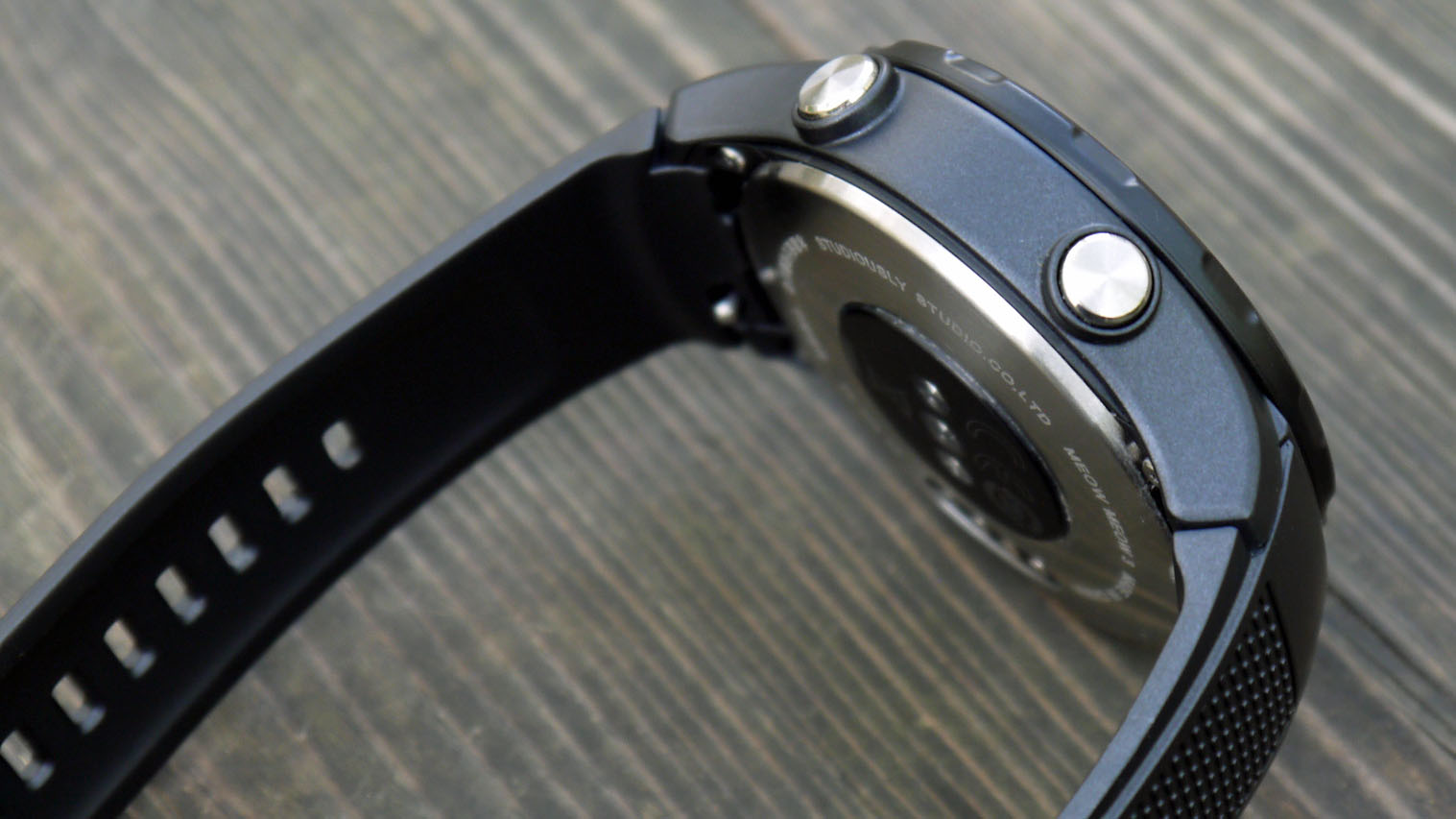 More strap choice would definitely be a good thing
While the Huawei Watch 2 uses the standard 20mm strap size, its design means you can still only attach straps designed specifically for it.
This seems like a real missed opportunity to give buyers a near endless selection of strap options, so for the Huawei Watch 3 we want a design that allows for any and all standard straps (in whatever size Huawei chooses) to be used with it.
7. Longer life
The Huawei Watch 2 actually lasts a reasonably long time by smartwatch standards, with up to around two days of life if you're not using a SIM card, but that plummets to only just over a day if you do use a SIM and even at two days you'll be charging it at least a few times a week.
Space for a larger battery is understandably limited, but if Huawei can do anything to stretch the Watch 3's life further we'd appreciate it.
After a some new smart wrist wear? These are the best smartwatches available