You've got yourself an Apple tablet, and you're bewildered by the sheer volume of apps. Just download these, and your life will be better.
It's the apps that really set iOS apart from other platforms - there are higher quality apps available on the App Store for the iPad than any other tablet. So which ones are worth your cash? And which are the best free apps?
Luckily for you we've tested thousands of the best iPad apps so that you don't have to. So read on for our selection of the best iPad apps - the definitive list of what applications you need to download for your iPad now.
Haven't bought an iPad yet and not sure which is best? We've got them listed on our best iPad ranking - or you can check out the best tablets list to see the full range available now.
If you are looking for games, then head over to Best iPad games - where we showcase the greatest games around for your iOS device. Or if you're using an iPhone X or iPhone 8 head over to our best iPhone apps list. And if you're a professional, you may want to head straight to our top business apps.
New: Drafts 5 (free or US$19.99/£17.49/AU$27.99 per year)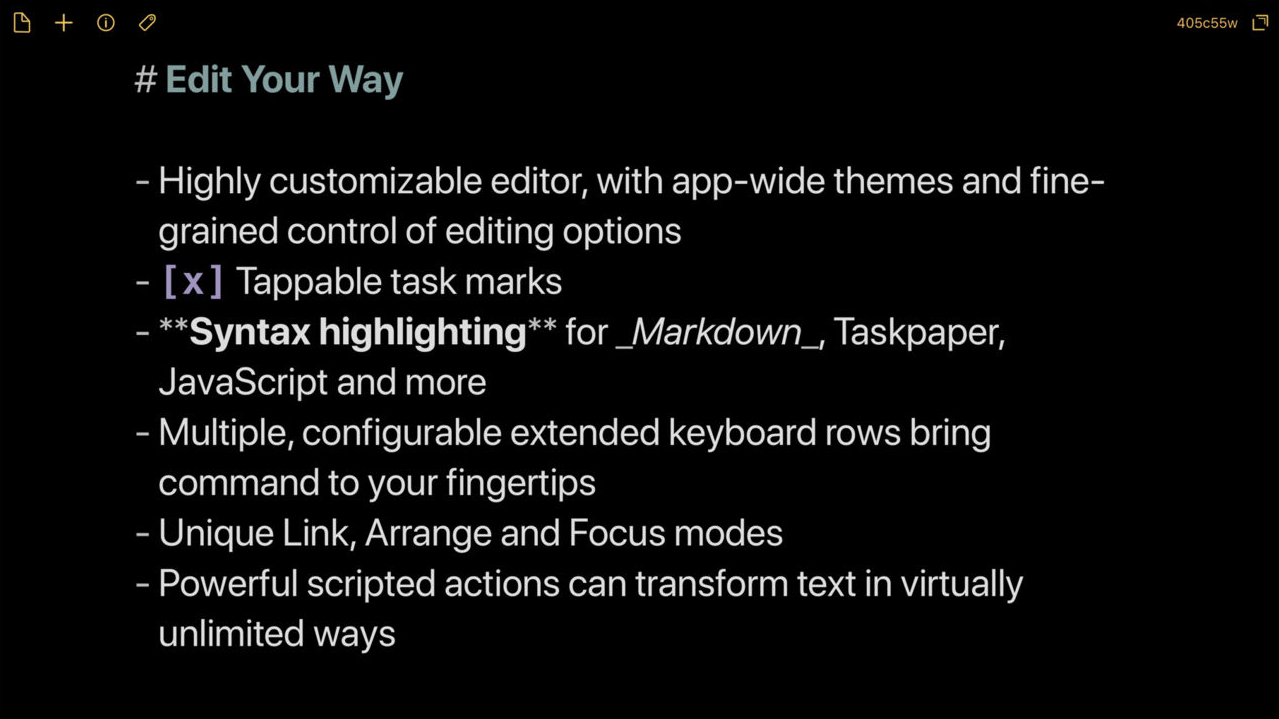 Drafts 5 initially looks like a straightforward text editor, albeit one with a heavily loaded custom keyboard bar. As you type, a word/character count keeps track in the corner, and you can prod the aforementioned bar's buttons to perform actions, and adjust the cursor's position.
What sets Drafts apart is its flexibility. For one thing, the keyboard bar can be customized. When a text is completed, it can be tagged for easier subsequent retrieval in the app's inbox. And actions enable you to process text or send it elsewhere.
That's all in the free tier, but splash out on Pro and Drafts becomes a seriously powerful tool. You can create and edit automation actions, change the app's theme, adjust your workspace, and explore pro-oriented widgets. It feels like the spiritual successor to Editorial, and in either incarnation is a must-have for writers.
Can't figure out which iPad to buy? Watch our guide video below!
Streaks is habit-forming – in a good way. It's effectively a to-do manager that focuses on what you want to do in your life – and bad habits you want to eradicate.
To get started, you create tasks, assign icons, and define durations. The app's flexible regarding how often tasks should be done; and you can create time-based ones (whereupon the app temporarily becomes a timer), those that interact with Apple's Health app, and 'negative' ones you don't want to 'complete'. Streaks then tracks your progress in handy graph form.
The app's iPhone origins are obvious, not least in the main display that's optimized for six tasks and therefore looks comical on iPad. But it's nonetheless great to have this superb app in native form on Apple's tablet, and iCloud sync ensures any changes you make are accessible across all your Apple gear.
Patterning 2 offers a decidedly different spin on drum machines and rhythm making. Rather than you smacking a set of virtual pads, or tapping out notes on a grid, Patterning 2 gives you a wheel. In fact, it gives you several – one for each of eight selectable drum samples.
The interface might be unique, but it's also versatile. You drag sliders to set an item's properties. Depending on the selected layer, you can quickly adjust velocity, panning, and tuning; the last of those opening up many possibilities for melodies.
Patterning 2 also wants you to experiment - automation, per-sample directional playback, and randomization can make for complex, rich rhythms you'd be hard pressed to make in any other music app on your iPad.
Procreate is the kind of digital painting app that could feasibly tear jobbing artists away from the desktop. Feature rich, it also has an immediacy that makes it approachable for relative newcomers looking to paint on a touchscreen.
The interface is unobtrusive; by default, tools are accessed from a strip at the top of the screen, and brush size and opacity sliders sit at the left. Simple gestures can take you full screen, or undo a duff stroke.
This simple interface is augmented with a slew of features: custom, sharable brushes; layers with masking; drawing guides (such as isometric grids); live symmetry effects; Quickline for snapping strokes to straight lines; warp and liquify. As your skills advance, you can export video of you painting your masterpiece – or a 30-second timelapse ready for social media.
Affinity Designer brings desktop-grade vector illustration to iPad. Its huge range of tools are ideally suited to anything from high-end illustrations through to interface design. Every stroke always remains editable, and you can zoom to an absurd degree, and never lose detail.
The app works nicely with Apple Pencil or your own digits, and has a smart gestural system where holding fingers on the screen mirrors desktop keyboard modifiers. Elsewhere, you can pinch layers to group them, or drag one layer on to another to create a mask.
This is an app you can get lost in – but in a good way. The more you use it, the more you realize its sheer scope. And it even shares a file format with Affinity Photo, so you can bounce documents between the two without losing anything.
LiquidText PDF Reader has a misleading name. Although it is for reading and annotating PDFs, thinking it only capable of those things does the app a disservice. Really, you should consider it a hugely powerful product for dynamically gathering your thoughts, and quickly getting at important content within documents.
For free, you can import PDFs (along with Microsoft Office files), make highlights, and drag excerpts to a work area. Go pro and you can gather and link information across multiple files.
The app feels perfectly suited to the touchscreen. You can use Apple Pencil to scribble live ink lines that become dynamic links between documents. Gestures enable you to quickly collapse lengthy documents to read highlights, search results, or non-contiguous pages. For students, researchers, and anyone who wants to go beyond paper, LiquidText is a must-have.
Pixelmator is a full-featured but approachable photo and image editor. Loosely based on its desktop cousin, it provides a raft of creative tools, whether you need to make a few tweaks to a favorite photo, or have a burning desire to craft a multi-layered composition comprising images, drawings, text and shapes.
The app doesn't try to ape desktop editors in terms of interaction. Brush selection, for example, provides a full-screen view with large tappable previews. And although adjustment controls sit within a sidebar, this still feels friendly rather than complex; the last thing Pixelmator wants to do is pack the screen with palettes.
If nothing else, this app also represents astonishing value for money. Pixelmator is the logical next step when Snapseed doesn't meet your creative demands, and you desire the freedom to begin photographic artwork from a blank canvas, rather than just tweak the odd snap.
Scanbot Pro is a scanner app that uses your iPad's camera to snap documents. Assuming there's sufficient contrast, outlines are automatically cropped, whereupon you can rotate, color-adjust, and save the result.
To some extent, this echoes functionality now built into Apple's Notes app, but there's an advantage to having a standalone app for scanning. It's faster and more efficient, for one. But also, this app does more than just scan.
Your documents remain within the app and can be signed and annotated. OCR technology attempts – with some success – to create searchable text from your images, and to extract important details. These are presented as action triggers, for example to kick off a phone call or visit a website. In all, then, probably more useful than a hardware scanner – and rather more convenient to carry around with you too.
Lily invites you to make music from geometric, minimal spinning flowers. You select a color and shape – the former dictating the instrument, and the latter the lily's petals. Open the flower and you then gain access to a pulsating playback head.
At this point, you get to set notes by dragging bars across horizontal regions. Repeat the process with multiple lilies and you'll soon have an oddly delicate cacophony serenading your ears. This music can be exported, and you can save your current composition when you want to start a new one.
Lily is a very sweet app. It's rather too abstract to be as immediate is it would like, but if you fancy a decidedly different and exploratory, playful take on music-making, it's a joy.
Noted cleverly combines an audio recorder and notepad. The rich text editor is like a simplified Pages, with predefined styles for headings and lists, image support, and a highlighter for drawing a reader's attention to important bits.
That's nothing new on iPad, but the way text and audio integrate is. During recordings, tapping the tag button adds an inline '#TimeTag'. Tapping this tag later will jump to the relevant point in the recording. This means you can spend more time in meetings and lectures listening, and later return to flesh out brief notes, adding context based on the audio.
Naturally, Noted's own format is bespoke, but you can share notes with other users via iCloud. Otherwise, you can export audio to M4A format, and everything else to PDF. In all, then, an ideal productivity aid for a wide range of scenarios.
Poison Maps is an app for finding points of interest – POIs – on maps. Hence: Poison Maps. If you were hoping it'd provide insight into finding toxins, you're out of luck, but for restaurants, hotels, banks, tourist attractions, parking, shops, hospitals and so on, it does the job – millions of such POIs can be found by way of the efficient search function.
This might strike you as unnecessary, given the existence of the entirely free Google Maps, but Poison Maps has some trump cards. First, it has interesting and useful interface components, such as signs that clearly denote the distance to and direction of off-screen POIs.
Beyond static POIs, cycling and transport routes are built-in. Poison Maps also works offline, so should you find yourself in a new town and without a data connection, you'll still have a fighting chance of finding the things you need.
CARROT Fit is the answer if a more sensible exercise app just isn't doing it for you. Like CARROT Weather, this fitness tool is helmed by a snarky, sarcastic AI. Here, she comes across like the deranged offspring of HAL 9000 and a personal trainer. To wit, she'll threaten, ridicule and bribe you, in order to ȁC;prevent your body from blimping up.ȁD;
The actual exercise bit is, broadly speaking, conventional, in that you partake in recognizable routines. But even there, CARROT Fit has a very distinct character, referring to push-ups as 'Kowtows to Cthulhu,' and subtly renaming the seven-minute workout '7 Minutes in Hell.' Still, you'll likely need some humor when sitting on the floor in a sweaty heap after a few minutes of exercise, and CARROT Fit has that over its straight-laced contemporaries.
Away is an ambitious, multi-layered relaxation aid. It depicts a single scene, focused on a large blossom tree near a stream. Chill-out music begins when you tap the play button, mixed with sounds from the scene.
Tap the settings button to select from three background tracks and adjust the mix. You can also shift the visual scene from sunrise to night time, with each period of day offering new sounds. There's also a mixing disc that you can use to determine which sounds you'd like to be more prominent, such as leaves in the wind, the babbling stream or twittering birds.
There's a timer for defined meditation sessions, and if you hanker for more, the app's developer offers several similar themed multi-scene apps based around wind, rain, and water sounds.
Pause puts relaxation at your fingertip as you use a digit to slowly track a pulsating blob. It gradually fills the screen, whereupon the app urges you to close your eyes and keep mindfully moving your finger. A bell sounds when it's time to return to the real world.
The app's creator talks of Tai Chi principles and EEG-technology validation, and it's easy to be skeptical of such claims, but Pause can be effective. Slow, deliberate movements provide a sense of focus and calm, augmented by ambient audio.
Pause could be more helpful in some ways – it stops if you move too fast, when an audible warning would be better, and you may find using it on iPad unwieldy. With the right setup and frame of mind, however, Pause provides a beautiful, tactile route into mindfulness on your iPad.
Tinyclouds is an adorable weather app. That's perhaps a slightly odd description to use for something that's usually utilitarian, but then Carrot Weather (elsewhere in this list) showcases how weather apps can have a character of their own, and Tinyclouds is certainly unique.
Select a location (you can store several within the app) and it provides a big temperature reading at the top of the sidebar, along with a forecast for the rest of the day and an outlook for the coming week. The rest of the screen is an ever-changing isometric city, with cars zipping about, its weather mirroring that of your chosen location.
The app does, admittedly, feel like a sketch – it could do with more detail, and at least a wider range of views. Still, as a simple, great-looking weather app for a docked and charging iPad, it's well worth a couple of bucks.
White Noise+ is a sound machine designed to reduce distractions by way of ambient noise. Many apps in this space are a bit new age and flowery, and quite a few are, frankly, rubbish. Fortunately, White Noise+ is none of those things, instead providing a thoroughly modern, tactile take on noise generation.
The app's based around a grid akin to smart drums in GarageBand. Here, you get 16 slots, into which you drag icons that represent different sounds. Those toward the top play more loudly, and those toward the right have more complex loops. Your mixes can be saved, and sleep timers and alarms are available if you want to use White Noise+ for meditation sessions – or for waking you up should you doze off.
You get a handful of sounds to play with for free, but the full set requires a one-off IAP. Given the quality of the app, it's well worth the outlay.
Streaks Workout wants you to get fit. Such apps are usually associated with iPhone – hardly surprising, seeing as you're unlikely to go jogging with an iPad strapped to your arm – but for quick sessions of personal training, it fits the bill.
You select from the exercises you're happy to perform, and choose a workout length – from six minutes ('quick') to 30 ('pain'). The app then randomly sends exercises your way, which are impossible to miss on the large display.
When you're done with an exercise, you tap the screen to continue, but if you find that a distraction, you can switch from rep counts to timed exercise periods. You can create bespoke custom workouts, too.
During downtime, you can collapse in a heap and flick through saved statistics, mulling that iCloud support means Streaks Workout can follow you to every device, meaning you've no excuse to ever stop exercising.
Ventusky is a weather service that started out online, but feels like it was always destined for iPad.
Select a location and the main view enables you to switch the large map between various weather layers, including temperature, precipitation, snow cover, and air pressure. If you're a weather nerd (and/or British), drag upward and you get an extended forecast to scroll through, along with a ton of graphs and data to bury yourself in.
The one snag is Ventusky lacks Dark Sky's animated radar, and so you don't see storms rolling in – just where they will be during a three-hour window. Even so, the wind streaking across your display as tiny white lines helps you understand why conditions are the way they are.
In short, then, this app looks great, is wonderfully tactile, and is pleasingly different from its contemporaries.
Samplebot on the iPhone is primarily about collecting sounds and using them to make a noise (by way of live playback on a pad grid), or turning them into oddball songs via an easy to use built-in sequencer. This is still possible on iPad of course, but with a less portable device, Samplebot's other abilities transform it into a subtly different app.
Although you can of course still record you tapping pots, pans, glasses, and your own head, Samplebot can also bring in audio from Music, iCloud Drive, or the iOS clipboard, and sample from other apps if you've got Audiobus installed.
The end result is a grid pad and sample editor that's immense fun to play around with, twinned with a sequencer that's simple, but still powerful enough to sketch out the basics of your next hit record.
Retrospecs is a photo filter app that revels in the history of computing and gaming. Rather than turning any photo or image into a tiny Picasso with a tap, it instead reimagines whatever you load as if it was on the screen of a Game Boy, Apple Mac or C64.
In fact, over 40 systems exist once you pay for the IAP (you can test Retrospecs for free with a small selection), and if that's not enough, you can fashion your own custom emulations. For properly authentic retro output, you can edit dither modes, add glitch animations, tweak CRT effects and more.
Full support for video combined with some bonkers filters (PETSCII! Teletext!) adds scope for YouTube weirdness. But even if you only grab Retrospecs because you've always wondered what your face would look like on a NES, it's worth the outlay.
Home Design 3D is an ambitious app for home remodeling. Rather than merely give you the chance to map out a floor plan, or slap virtual paint on your walls, Home Design 3D invites you to recreate an entire property – or any dream home – in 3D.
This isn't an app where you can whip up something amazing in a few minutes. You'll need to spend time learning how everything works, whether adding walls, carefully positioning furnishings, or walking around the end result in 3D.
It's complex and time-consuming, and the interface has its share of quirks, but the results can be impressive and genuinely useful. If you're unsure, you can play around with Home Design 3D for free – but to save anything you create you'll need to unlock the app with a one-off IAP.
Linia Sketch is an iPad sketching tool that deftly balances elegance and power. Create a new sketch and all of the tools sit at the screen edges. Scribble nearby and they temporarily get out of the way, and you can also invoke full-screen with a tap.
This isn't an app that cares for realism. Blending with the small selection of pens is minimal, and the end results look digital, but this is a superb app for speed. You can quickly surround a selection and transform it in various ways. And there's the ZipLine feature, which lets you draw a line and hold for a second to straighten it. It's then possible to add further lines (to create a polygon, or map out floor plan walls) by tap-holding.
Virtual artists should look elsewhere, but if you're after an app to jot down quick storyboard ideas or create diagrams, Linia Sketch is ideal.
Monster Park - AR Dino World figures everyone should have their own dinosaur park, and enables you to create one on a table, in a garden, or in a mall when you're feeling hemmed in by concrete and glass.
Fire things up and a T-rex stomps about and bellows while pteranodons fly overhead. A US$0.99/99p/AU$1.49 IAP adds extra beasts, and the app enables you to augment your prehistoric critters with a virtual jungle.
Alternatively, position the experience at a distance to create a 'portal' into an ancient world, with the T-rex terrifyingly poking its head through and threatening you with its massive teeth.
Interaction is limited (tap the ground to make a dinosaur move, tap it repeatedly to unsportingly knock it down, and record any of your escapades), but this is nonetheless an entertaining take on augmented reality for kids of any age.
OmniOutliner 3 is a desktop-quality outlining tool that aims to bring structured writing to the masses.
It's effectively two apps in one. Essentials is about quickly getting down and organizing ideas hierarchically. It's quick and easy to add, promote and demote items (including with a physical keyboard, so you don't have to keep reaching for the screen), and to shift rows around with drag and drop. The built-in search further elevates the app from more basic tools, filtering out non-matching rows so you only see only what's relevant.
If your needs are greater, you can opt for Pro (US$38.99/£38.99/AU$62.99). This pushes the app towards word processing and spreadsheet territory, adding automation, styling options for document types (lists, book drafts, mathematical and so on) and section navigation from a sidebar. In either incarnation, the app is excellent, and a free two-week trial lets you switch between both versions to see which best suits.
FileBrowser makes it easy to grab documents from just about anywhere, then view and edit them. Think of it like a companion app to Files. Although Apple's file manager supports iCloud and integrates with the likes of Dropbox, FileBrowser can explore connected Macs and PCs, FTP servers, NAS servers and more.
Setting things up is straightforward, and the app's tabbed interface makes it a cinch to quickly switch between sources. Unfortunately, tabs aren't drag-and-drop aware, but sidebar shortcuts are. File viewing works well, and you can annotate PDFs and create/unpack ZIP archives.
It'd be good to see FileBrowser more fully embrace the space available on iPad – an optional two-pane view, for example. The lack of Share sheet support is also a pity. Other than that, it's a solid option when your file management needs exceed what Files can do.
Typorama is about adding text to your photos – or creating typographic designs from scratch – with a minimum of effort. Select a photo, flat color, or a stock image background, choose an output size, and you're ready to get started.
Other apps in this space let you select fonts, but Typorama has you select designs. Enter some text, tap a design style, and what you typed is instantly transformed. If you're not keen on what you see, tap the style again for variations.
You can add multiple type layers, and apply shadows and gradient effects to each one. There's also a 3D rotation/perspective tool, and a selective eraser. Some features are locked in the free version and you must put up with watermarks, but there are various IAP available, including the ability to unlock everything for $5.99/£5.99/AU$9.99.
Toca Life: Office gives your kids a chance to play out what they imagine their working parents get up to all day – albeit in exciting environments likely more colorful and interesting than the real thing.
For young children, there's plenty of fun to be had simply in moving the little figures about, and poking backgrounds to see what happens. For slightly older kids, exploration can prove rewarding in other ways – there's a secret exit from the jail, a working copy machine in the office, and a cafe where you can merrily experiment with what's on the menu.
Neatly, there's even a recording feature, so kids can get creative and act out a scene, which can then be shared with friends. In all, this is another superb Toca Boca creation that ticks all the right boxes.
Affinity Photo extinguishes any lingering doubt regarding the iPad's suitability for creative professionals. In short, it's Serif's impressive Mac/PC Photoshop rival, carefully reimagined for the touchscreen.
This is pro-level photo/image-editing fare, and you need the hardware to match – at least an iPad Air 2, but preferably an iPad Pro – but with the right kit, you get a huge range of features for image editing, creation and retouching.
The live filters and liquify tools are particularly impressive, responding to edits in real time. Working with a finger or Pencil is pleasingly tactile in a manner desktop equivalents can't match.
RAW shooting/processing support, the ability to add fonts, layer isolation, and robust Files integration all cement Affinity Photo's place among the iPad app greats. And if you become an expert, there's even a 'Show Touches' option for making tutorials that other users can follow.
Tayasui Doodle Book is a sketching app that takes a slightly different approach to its contemporaries. You still get a selection of tools, but this app's more about the virtual paper – a semi-randomized selection of backgrounds that vary from grids and lines to bubble patterns and tiled teddy bear heads.
The idea is that these repeating patterns will inspire you to try new things, such as painting a selection of tiny monsters, or working with lined paper to create a dr